Relax! You are automatically notified
We wanted to make Semonto as user-friendly as possible. So even if you don't touch any alert settings, you will automatically be notified by mail whenever something happens to your site or server. You only need to edit the settings or create contact groups if you want to change or add notifications, which is something our advanced users will enjoy.
Select notifications for each feature
Notifications are set per feature. That means that you can choose how you want to be alerted for each test you run. We have many options: email, push notifications, voice calls, Slack messages, SMS text messages, webhooks, and even tweets.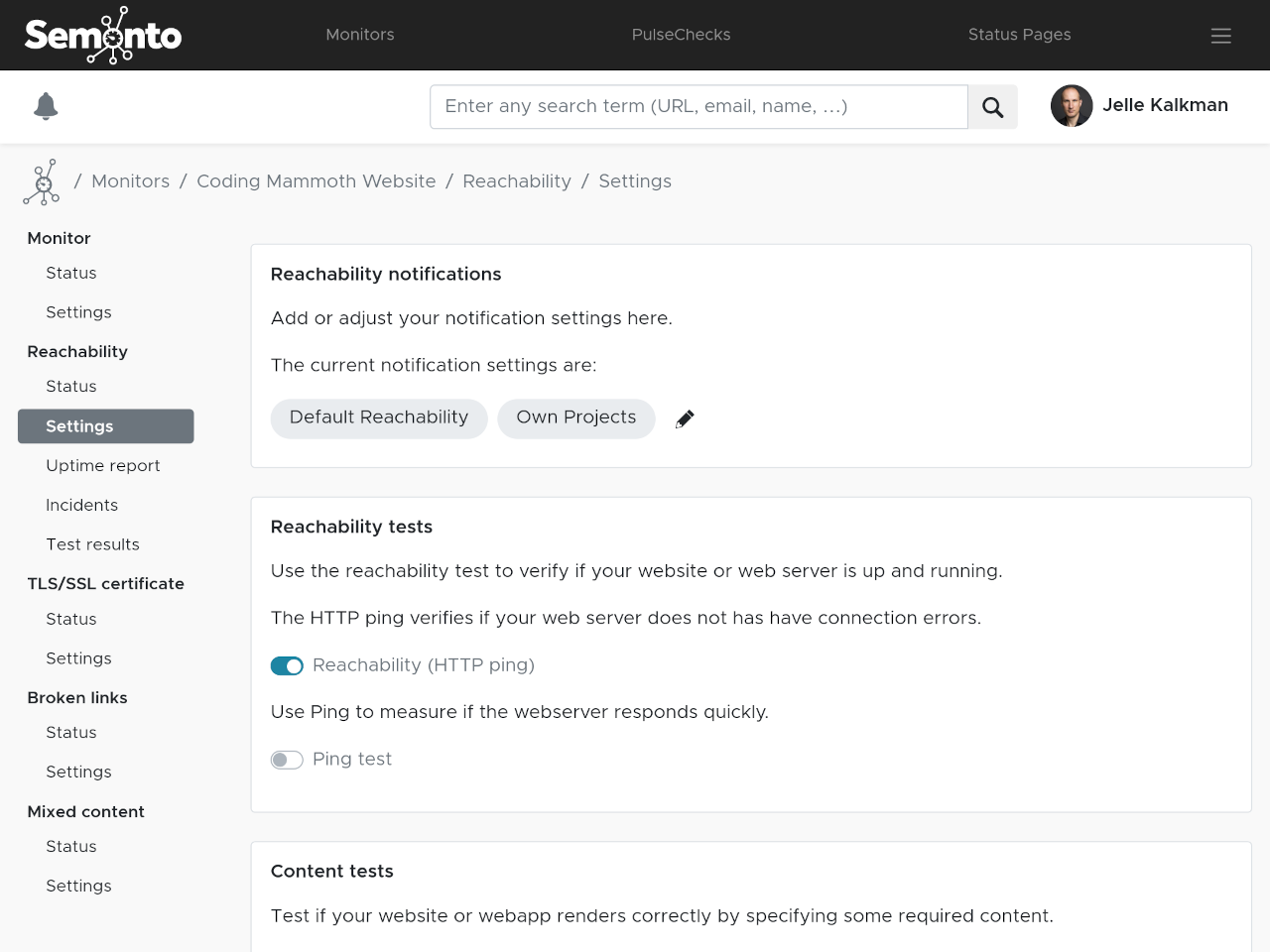 Optional: create a new notification group
Alternatively, you can also create an additional notification group by clicking "Add notification". You will be directed to a new screen in which you can make the necessary selections. This can be useful in a number of ways. Here are some suggestions:
Notifications per project
If you are working on an app together with 4 colleagues, you can create a notification group specifically for this project so that all team members receive a message when this app goes offline. Add the app in the Monitors section, then specify who should be notified and how in the rest of the settings.
Notifications per priority
You can create a notification group for high-priority monitors and a separate one for low-priority monitors so that you get alerted differently for important issues.
Whatever you can think of
You can organize your monitors and notifications any way you want.
How to change the current notification settings
If you want to change how you are notified for a certain monitor, go to Notifications in Semonto and select the test for which you want to edit the current notification settings. Here is an overview of what you can adjust:
General notification settings
In the General section, you can change the following settings:
Name: describe what these notifications are for. For example, "my website" or "websites on server B".
Default: Decide whether the notification settings automatically apply for each new website you add.
Notification threshold: select how long you allow tests to fail before you want to get notified. This helps you avoid getting messages about temporary glitches that do not require your interference. This option only appears for certain tests: Reachability, TLS/SSL certificate and Cron Job Monitoring.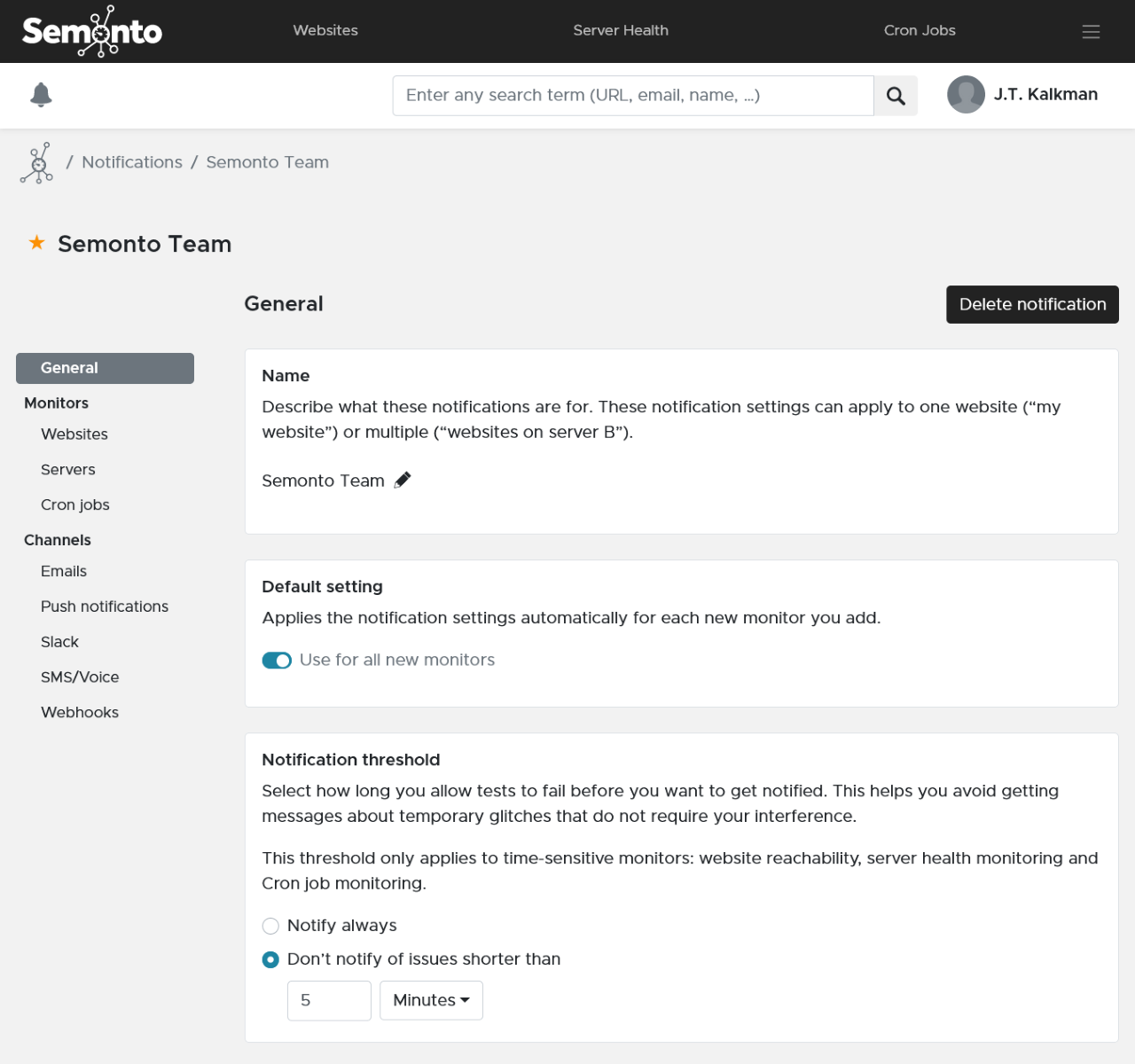 The notification channels
For each test, select the way you want to get notified. You can activate more than one notification method per group.
Email
Just enter the e-mail address of the person(s) who need to get notified. You can also add a personal message that will be included in the footer of the notification email.
This is what a notification email looks like: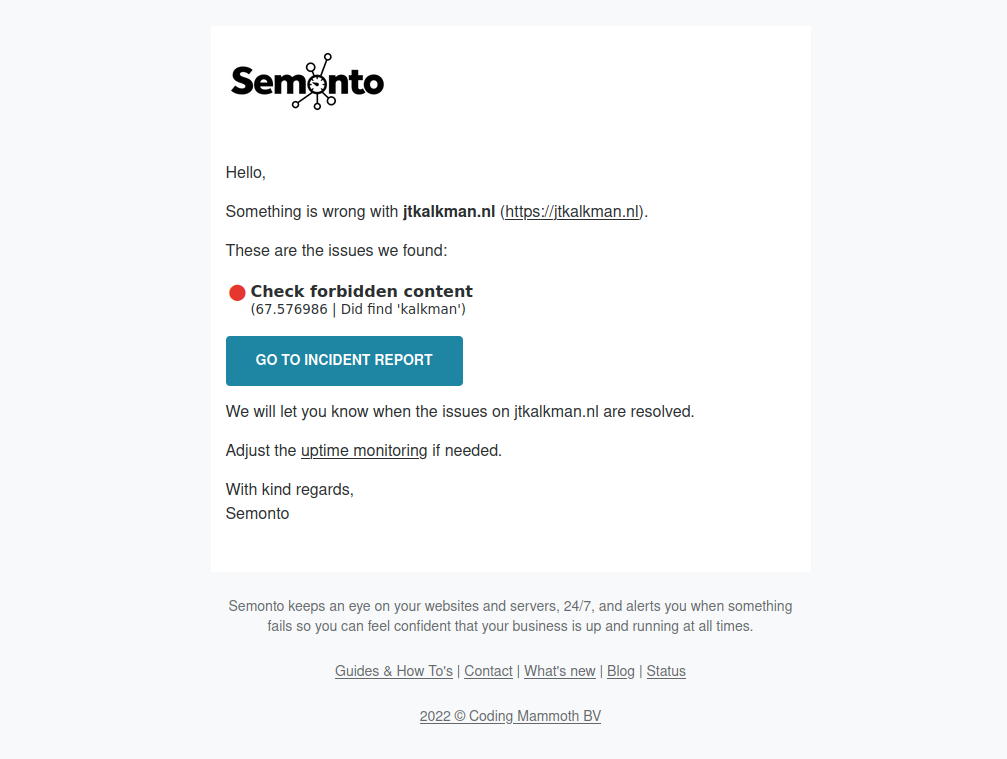 But you also add a personalized message like this like: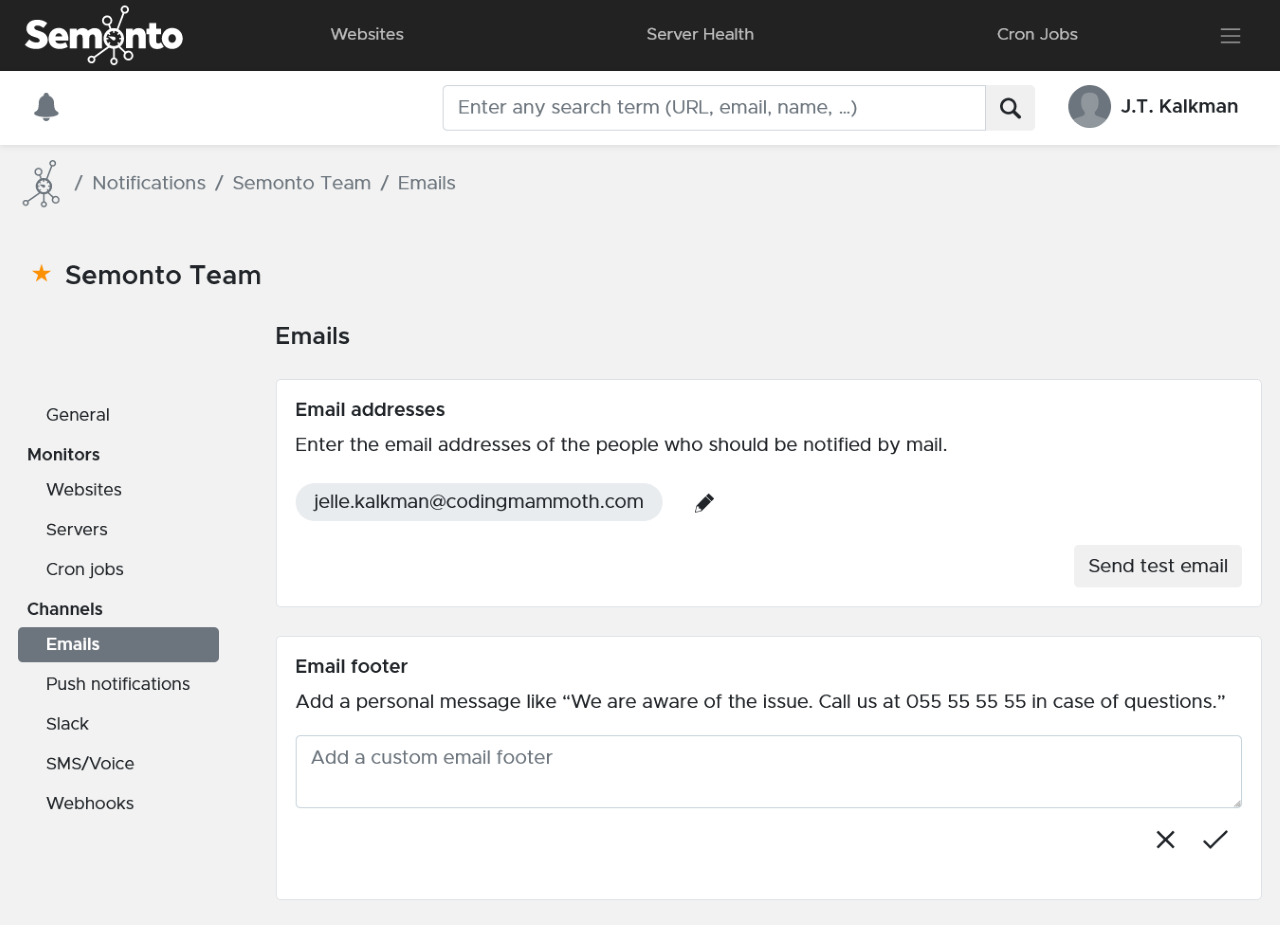 Push notification
If you have installed the Semonto app on your smartphone, you can enable push notifications to receive notifications straight on your phone.

Slack notifications
You can also receive Semonto notifications straight in your favourite Slack channel. Send notifications to multiple Slack channels or even multiple Slack accounts and organize your workspace the way you like it. Check our easy guide to get started.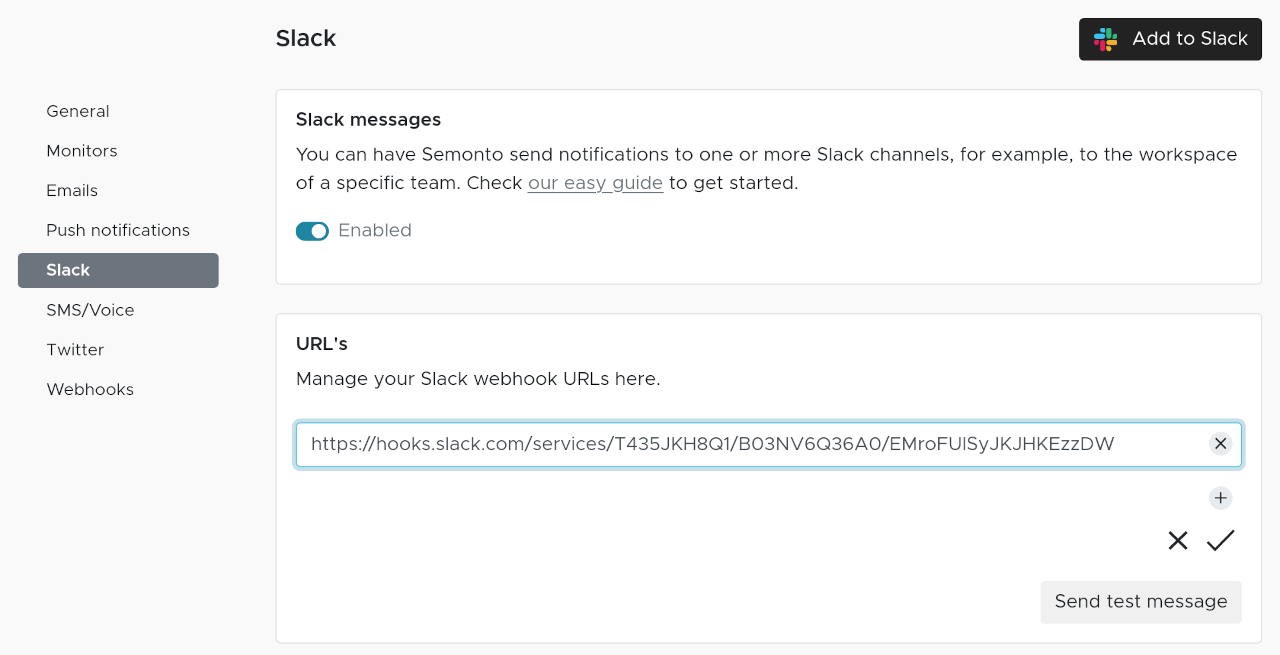 SMS
If you want to receive an SMS when something goes wrong, enter your mobile phone number. You can add more than one number. In order to receive SMS-messages, you need to purchase credits. Go to Your SMSes in the main navigation menu to purchase credits.
Voice Message
We can also notify you by calling your phone and leaving an automated voice message. This is especially interesting for crucial services of which you want to be notified immediately wherever you are. Just enter your phone number and enable voice messages to activate this service. Credits are required. You can buy them in the SMS tab in the main navigation.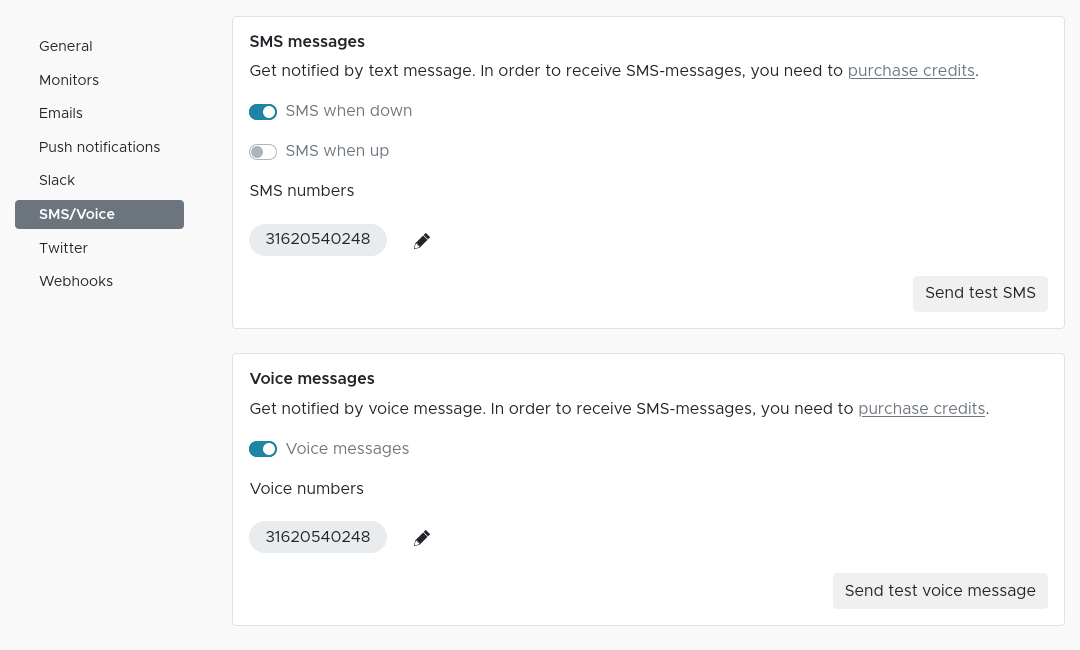 Webhooks
You can also create webhooks that are triggered when a specific event happens. This allows you to execute exactly the task you want like custom notifications.

Want to pause notifications?
You can temporarily pause your notifications to avoid getting flooded with downtime messages during planned maintenance. To pause notifications, use the switch on top of the Notifications page. If you disable notifications, Semonto will still test your monitors, but won't send any alert.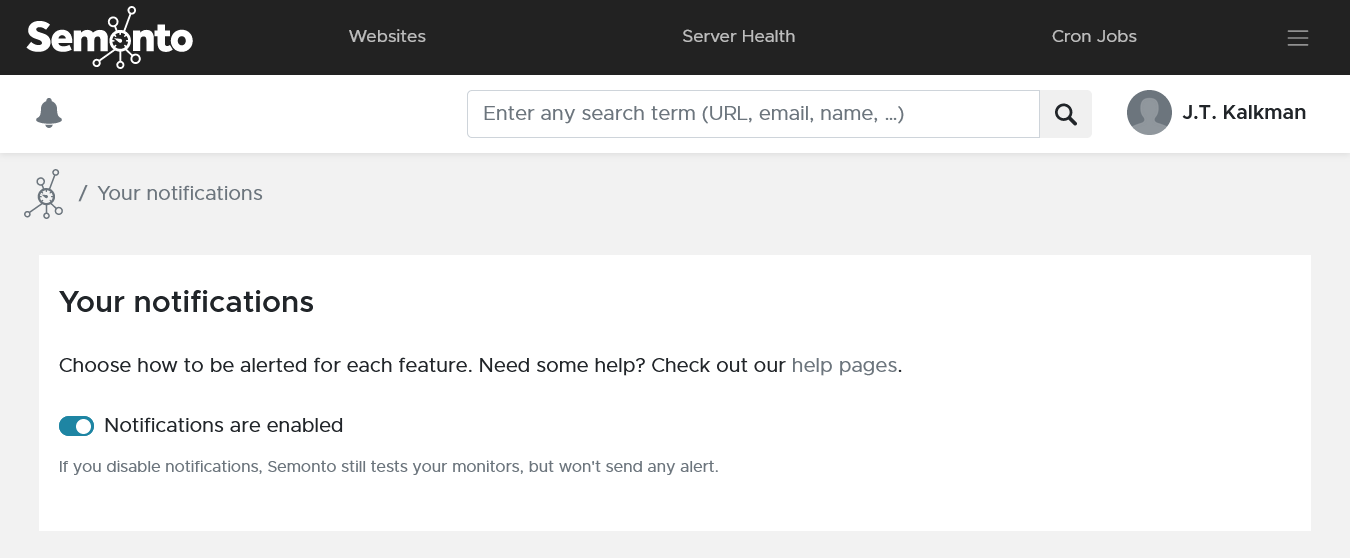 How to set notifications as default
If you want to reuse notification settings, you can mark your preferred notification settings as default. The settings will then automatically be applied when you create a new monitor or PulseCheck. When you are creating or editing your notification settings, you will see a switch at the top of the page called "Use for all new monitors and PulseChecks". Activate the switch to mark your notification settings as default.